Mary is going to a presentation that she's put a lot of work in. She can't wait to get on the big stage and give the presentation to a room full of entrepreneurs.
On the subway, she gets a message from a colleague. The presentation got pushed from 8 am to 10 am. This was a bit of a disappointing surprise because Mary had to rush to make it in time.
Heck, she didn't even drink her morning espresso. This is kind of a big deal for her.
"Well, I have two hours to wait now, what should I do," Mary thinks. "Oh wait, how about getting that espresso?"
Unfortunately, she is not familiar with the area. She takes a look around but doesn't see any coffee houses nearby. Besides, Mary prefers to trust businesses with good ratings. So even if she saw something, she wouldn't know if the coffee is good there.
So what do people do in a situation like this?
That's right, she takes her smartphone. She opens Google Assistant, and asks: "Good coffee houses near me?"
The results are in just a couple of seconds. Yes, there's a nicely rated coffee house right around the corner. Time for that coffee!
So how do you make Google display your business this way? Let's answer this question in this article.
      The Rise of "Near Me" Searches
Being in an unfamiliar area and looking for a business is a situation that many of us find ourselves every now and then. Google calls such local queries "Near me" searches. That name pretty much says it all. It's a search to find a business in a small geographic location.
According to Google, there's been an incredible increase in "Near me" searches in recent years. In fact, about 82 percent of online shoppers conduct them on a regular basis. And, out of these, 90 percent say they click on the first set of results. Of course, the search giant notices these changes. Here are some of the findings from a recent Think With Google report that highlights the importance of local mobile searches.
People conducting "Near me" searches aren't always looking for a business, but a product or service. To get better search results, they often include the name of the location
In the past two years, there was a 200 and 600 percent increase in car dealer-related and dress-related "Near me" searches, respectively
In two years, there was a 150 percent in mobile searches for "_____ near me now" ("coffee house near me now," "pizza delivery near me now," etc.)
There was also a 200 percent growth in searches for "Open near me now" ("pizzerias open near me now" etc.)
"Near me" searches containing phrases "can I buy" or "to buy" have increased by 500 percent.

Dorris Henken, a content strategist at Studicus, says that for business owners, the rise of "Near me" searches means one thing.
"Entrepreneurs have to be there when customers are looking for them in their area," says Dorris. "Being there, however, requires some optimization, but fortunately, Google has you covered on this one."
This optimization is called local SEO.
      Google My Business: A Must for Local SEO
To help local businesses to get in the search results like Mary's, Google has come up with a great solution: business profiles. Also called "Google My Business," these are basically free profiles that appear in Google Maps and Search. In addition, there is useful information to potential customers, including photos, reviews, prices, addresses, and features.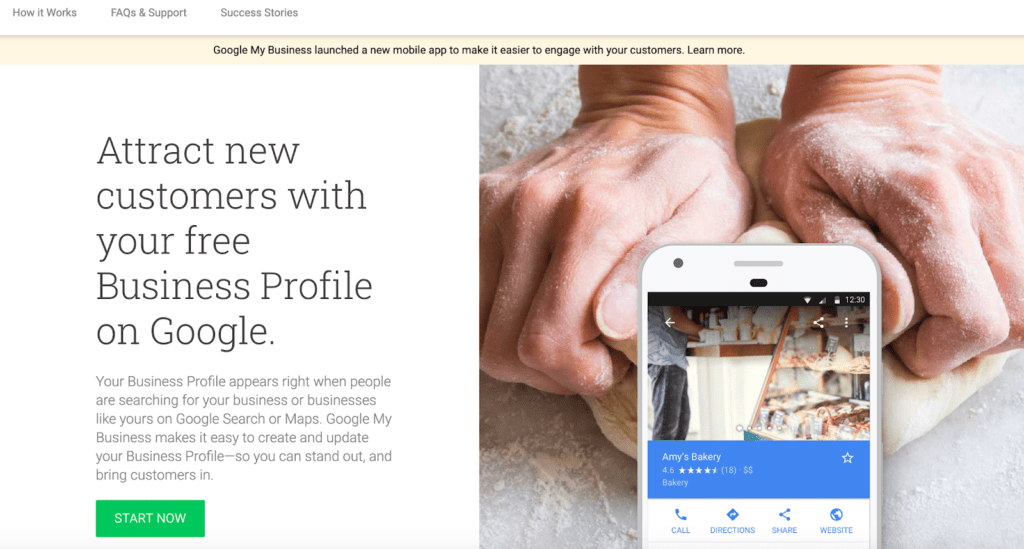 Having such a profile has become a simple way to stand out in local Google results and get contacted by people.
But you should also go for more. To convince them to go to your website from the profile, you need an inspiring business description. Tools like TrustMyPaper, Grammarly, and GrabMyEssay can be used to create and proofread website messages and call to actions.
Now, let's go back to business listings. To show you just how important Google My Business profiles are, let me tell you about local SEO.
Local SEO is the optimization of a business profile for a local audience. The main point here is to make a business appear in the so-called Google's local 3-pack.
Here's how a typical 3-pack looks. It lists three, generally highly reviewed, local businesses above the ordinary search results so users are more likely to click on them.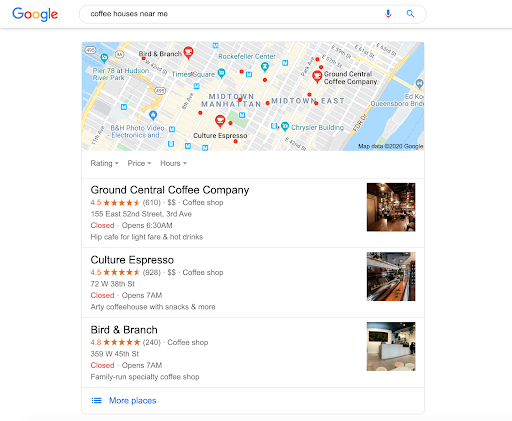 As you can see, each business comes with its address, reviews, and a description. This is exactly what the user needs to make a decision. For example, 82 percent of customers read reviews of online businesses before contacting them. And, 91 percent also say that positive reviews make them more likely to trust the businesses.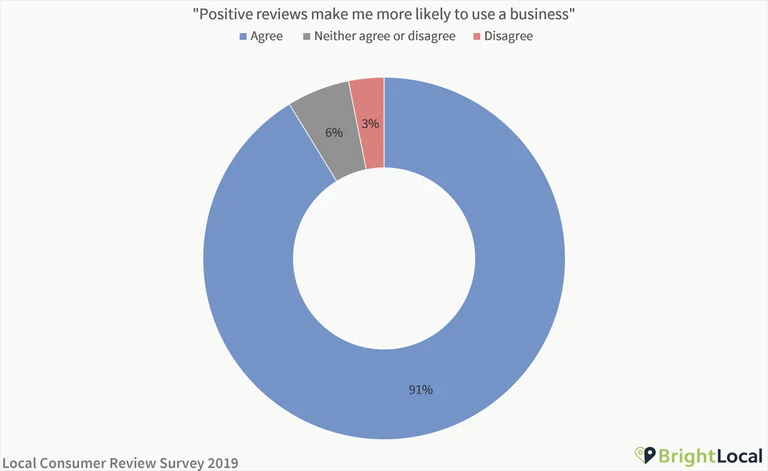 A profile on Google My Business provides the opportunity to be out there and proudly display positive reviews from customers. Since they're so important for people to choose a business to visit or buy from, this profile becomes simply essential for local SEO success.
Read this guide to 10 SEO tips for business owners to expand your online presence further.
There's another reason why having Google Business profile is so important to capturing more local searches: voice search.
       Voice Search: Attract More "Near Me" Searches
Remember how Mary searched for the coffeehouse in the introduction? She used Googles' Assistant for that, which means she used her voice. As you probably know, Google Assistant is just one of the popular personal assistant that users control with voice.
People love using tools like Google Assistant because they're very easy and intuitive to use. I mean, what would you rather do: talk to a device or input control commands via a keyboard? Of course, people prefer the first respective option. It's faster, easier to conduct plus it's very user-friendly. That's why Maria decided to search with voice, too. Having a business profile on Google is a great way to attract voice-based queries. The search engine will definitely look through local business listings to provide results for "Near me" searches. If you have a profile there, your chance of making the 3-pack is better.
The benefits of being in that prestigious club are many: more traffic, more awareness, more conversions, more subscribers for email marketing campaigns, and so on.
Keep in mind that appearing in the pack is difficult if your listing is not fully completed or updated. Google strives to provide the most relevant and helpful answers, so if it finds that your profile has not been updated in months, then it might choose to go with your competitors.
       Your Business Needs a Google Listing
So here's how you can make Google list your business in the local search results and in the 3-pack. There are thousands of thousands of people like Mary out there. Many of them us voice to find local businesses. To make sure that your business is more visible in local searches, please be sure to create a Google My Business listing and keep it fresh.
If you're unsure where to start, don't hesitate to drop Creative Allies a line. We can help you set up a great Google My Business listing and get you some exposure.